We've got better options to keep your squishy friend looking as good as new without tumble drying your Squishmallow!
Cleaning a Squishmallow sounds as easy as throwing it in the washing machine and letting your Squishmallow tumble dry – and it is! But such convenience comes with consequence and you might lose out on the cute shape Squishmallows come in. Here's why you should never tumble dry your Squishmallow, along with some tips on how to take care of your Squishmallow.
What are Squishmallows? Why are they so popular?​
Squishmallows are the latest trendy toy to hit the Internet. They're cute, cuddly, and collectible with their own names and unique backstory that add to the appeal of the plush toys. With thousands of Squishmallow plush toys to offer, Squishmallows also come in a wide range of themed groups, also known as "Squads." Whether you're into animal plush toys or Disney themed plush toys, there's a Squishmallow for just about anyone!
While plush toys are generally known to be for kids, these soft, marshmallow-like toys are perfect as a companion for all ages. It's especially important to take good care of your Squishmallow so it can keep its cute shape and fluffy sensation for longer, as well as its soft, cuddly exterior.
Looking for a Squishmallow to take home? Check out PSB Toys's post on the Top Squishmallows in Ontario!
Squishmallows look great on display, but they still need to be cared for! Squishmallows are friends and a little extra time spent on caring for your Squishmallow can go a long way. So, how do you take care a Squishmallow? Especially without washing and throwing your Squishmallow in the machine to tumble dry? PSB Toys has a few quick tips and tricks that will make Squishmallow cleaning easy and hassle-free.
#1: Caring for your Squishmallow begins right when you open the package.
It's exciting to bring home your new Squishmallow companion that sometimes we forget that we could damage our new, cuddly friend just from opening the package. Keep sharp objects away from the package, or at least be careful with them so you don't accidentally damage the Squishmallow before you can even pull it out from its package.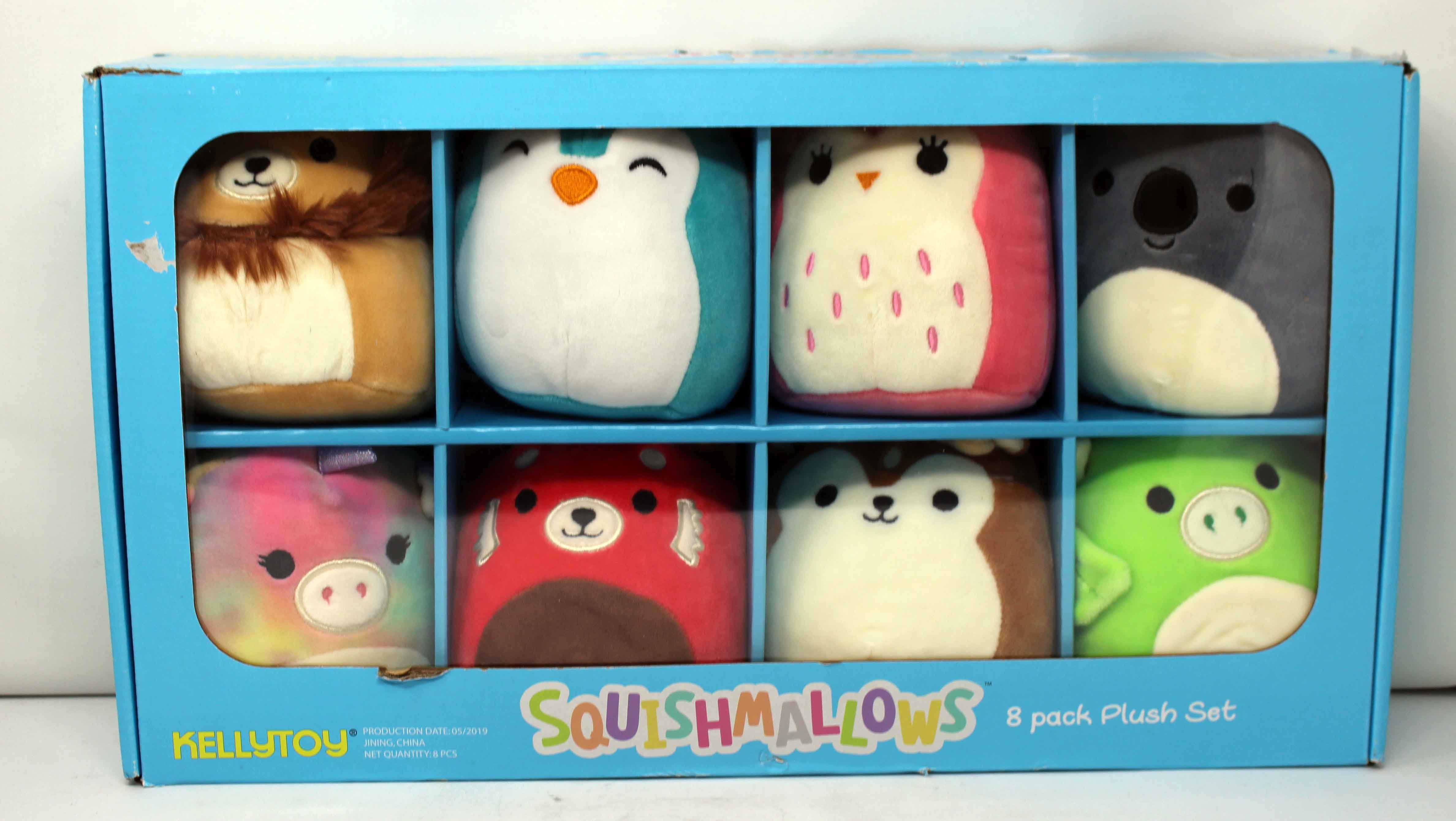 #2: Use a damp cloth to spot clean your Squishmallow. No need for a washing machine!
According to the official website, Squishmallows can be spot cleaned with a damp cloth. If your Squishmallow gets a small stain on the side, you can use a wet wipe or a stain remover to get rid of the unwanted blemish quickly. But make sure you don't throw your Squishmallow in a washing machine! This could mess with the shape of your Squishmallow and ruin the texture of the fabric so it won't be as soft as it should be.
#3: Do not tumble dry your Squishmallow! Let it air dry instead.
Once your Squishmallow is clean, let it sit out to dry. Low heat is the best way to go as Squishmallows and applied heat don't mix well together. Make sure to avoid using hair dryers, irons, or any other heated appliance. Yes, that means staying away from the drying machine.
It'll take awhile before you can comfortably cuddle your Squishmallow again, but it will hold its shape and look as cute as when you first got it!
#4: Cut any loose threads you might see.
The official website states that it's rare for a Squishmallow to have loose threads, but not impossible. If you do end up seeing any loose threads on your Squishmallow, do not pull it! Instead, grab a pair of scissors and cut the thread off as close to the seam as possible. This prevents any possible damage that could be done to the fabric. We don't want any unraveling to happen, right?
Squishmallows have blown up in popularity in the past few years and it's obvious why. These plush toys are known for their cute, soft exteriors. Heck – the Squishmallow slogan is "Love at First Squish." Like any other collectible, they're great to have on display for aesthetic purposes, but Squishmallows aren't meant to be just for display.
Squishmallows give a great sense of comfort just from cuddling with it, playing with it, and sleeping with it. It's important to take care of your Squishmallow if you want it to last long, so make sure to follow these tips to keep your Squishmallow looking and feeling as good as new.
Want more on Squishmallows? Check out our post on The Biggest Squishmallow Collections Ever!
Got some Squishmallow-care tips of your own? Comment below!